IRIS GOMEZ is an award-winning writer and nationally-recognized expert on the rights of immigrants in the United States. On Thursday, October 11, 2012 she will return to the Jacob Edwards Library to present a program on Immigrant Dreams In Life and In Literature. The presentation will start at 6:30 p.m. in the Reading Room, at 236 Main Street, Southbridge. All welcome! The Friends of Jacob Edwards Library will provide light refreshments.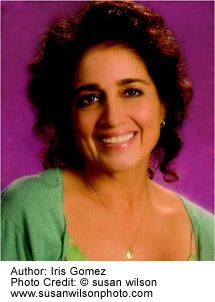 A respected public interest immigration lawyer and law school lecturer, she has represented civil rights groups and individuals in high impact cases and won professional awards for her accomplishmentsincluding a Las Primeras award for Latina trailblazers in Massachusetts. She has frequently been called upon to write and speak on immigration-related topics and has appeared in the media, including on the nationally televised Cristina show and Boston's celebrated bilingual late-night radio program ¡Con Salsa!

Ms Gomez is the author of two poetry collections, Housicwhissick Blue Edwin Mellen Press, 2003) and When Comets Rained (CustomWords, 2005), which earned a prestigious national poetry prize from the University of California. Her work is widely published in a variety of literary and other periodicals. 
An immigrant from Cartagena, Colombia, she spent formative years in Miami, Florida and has also lived in New York City, Michigan, and throughout the Pacific Northwest. She and her family now make their home in the Boston area.